Featured Videos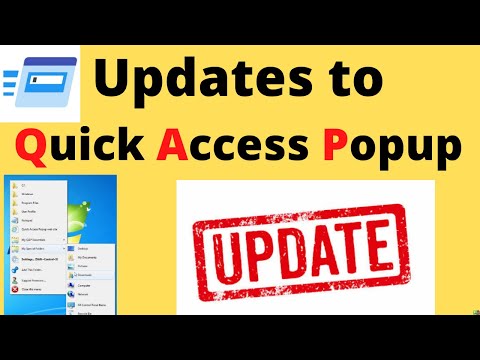 First steps with Quick Access Popup (9 min.)

This short demo will help you in your first steps with Quick Access Popup, including: a presentation of the QAP popup menu, a demo of working with favorite folders and a quick introduction to menu customization.

Installing Quick Access Popup (2022) (9 min.)

See in the first minutes how to easily install Quick Access Popup with its 'Easy one-step Installation' program. And, in the remaining of the video, users wanting to install QAP in portable/standalone mode will find all the required information.

Quick Access Popup - Quick Introduction (2022) (2 min.)

Two minutes presentation where you will discover how Quick Access Popup can make you save thousands of unproductive clicks.

Beautiful and efficient menus with icons (12 min.)

Menu icons make your menu nicer. But menu icons also improve the usability of your menu by giving it more sense using clear visual references. See how to use the Quick Access Popup 'Customize' window to make your menu look the way you prefer.